Upper Deck Plans to Keep Hockey Interest Alive at the 2012 Fall Sportcard & Memorabilia Expo
By
Hockey fans are holding their breath as the NHL and NHLPA have resumed negotiations to try to save this 2012-13 NHL season. Regardless of how those negotiations go, Upper Deck has some news that will have hockey fans who are making plans to attend the 2012 Fall Sportcard & Memorabilia Expo in Toronto on November 9, 10 and 11 very excited. Upper Deck was able to make the trade show VERY memorable for collectors in May and we plan on doing that again for this show.
Upper Deck will have super items on display and available for free raffle on Friday night at 8:00 p.m. and Saturday at 4:00 p.m. All collectors need to do to participate is just visit the Upper Deck booth prior to those times in order to participate.
The Priority Signing wrapper redemption program will return where fans in attendance who purchase a hobby hockey box of 2012-13 O-Pee Chee, 2012-13 Artifacts or 2012-13 Upper Deck Series One from a Certified Diamond Dealer at the show will receive a voucher. They can bring that voucher to the Upper Deck booth at specified times where they can exchange it, along with the wrappers from the box for a random 2012 NHL Priority Signings autograph card for FREE!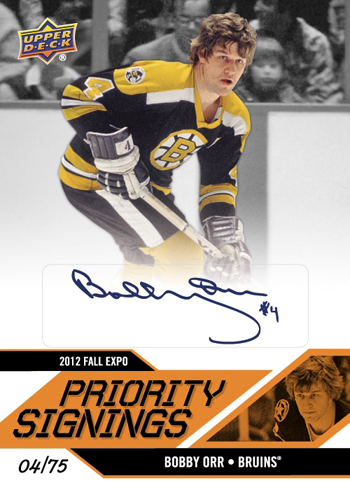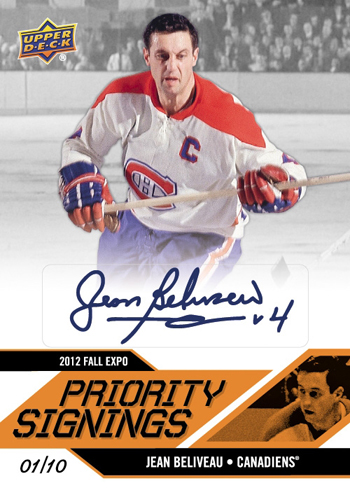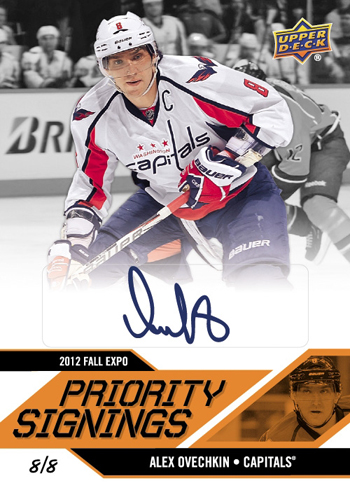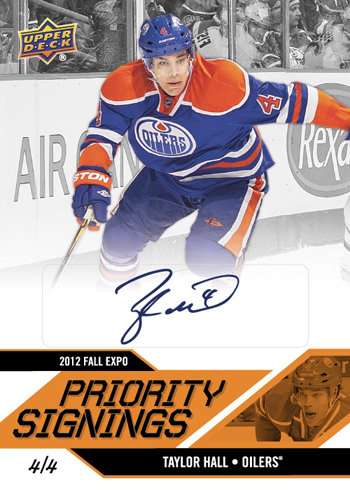 The checklist for the Fall Expo is strong with players like Alexander Ovechkin, Sidney Crosby, Carey Price and Ryan Nugent-Hopkins adding their signatures to the set. You can also find autographs from retired stars like Bobby Orr, Jean Beliveau, Mario Lemieux and Wayne Gretzky in the 2012 NHL Priority Signings set. There will also be rare variations of some of the top players in the set as we have done in years prior to add a higher level of collectability, but all cards will be limited to just 75 copies or less. Below are the hours for the Priority Signing program:
Friday – 5:00 p.m. – 7:00 p.m.
Saturday – 10:00 a.m. – 12:00 p.m.
Sunday – 11:00 a.m. – 1:00 p.m.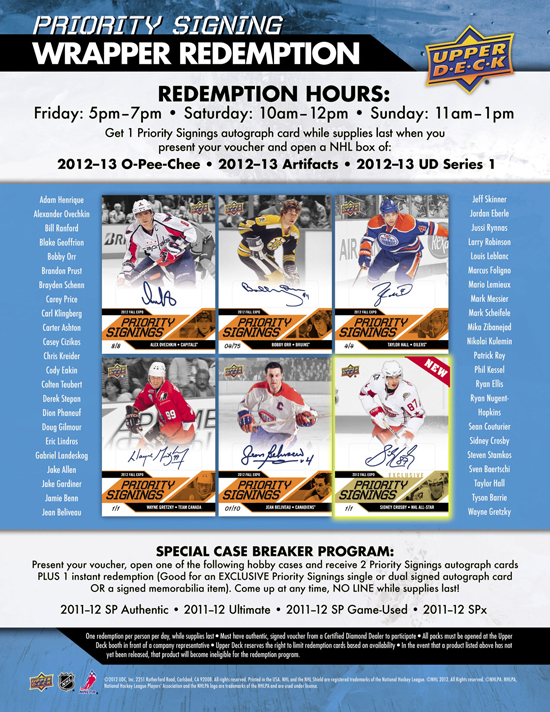 Just be careful when pulling your Priority Signings card however. You never know what could be hiding in those packs!
Based on the success we had with the case breaker promotion we ran in at the spring show, we will be bringing it back with some added twists. Collectors will be rewarded for opening a NHL case of 2011-12 SP Authentic, 2011-12 Ultimate, 2011-12 SP Game Used or 2011-12 SPx purchased at the show from a Certified Diamond Dealer. Upon opening the case and turning in their voucher and wrappers, collectors will receive two random Priority Signings autograph cards and a special bonus; an instant redemption for an ultra-rare Exclusive Priority Signings single or dual signed card OR an autographed memorabilia item from a top NHL draft pick. These single signed cards are limited to 5 copies or less and the dual signed cards to just 10 copies or less. There will be seven one-of-one cards in this Exclusive Priority Signings set from athletes like Bobby Orr, Mario Lemieux, Sidney Crosby, Wayne Gretzky, Ryan Nugent-Hopkins and more! Additionally, collectors taking part in the case breaker promotion do not have to wait in any line and can come up at any time to participate! All the giveaway items for the case breaker promotion will be on display at the Upper Deck booth so make sure to stop by to check them out during the show. Just try not to drool on the glass…
Lastly, we have heard collectors share frustration over pulling expired redemption cards from Upper Deck products. Due to licensing changes, we have been unable to honor those cards, until now. We have a new program to help collectors out with expired modern-era redemption cards they pull from Upper Deck products with The Upper Deck Expired Redemption Raffle Program. Collectors may bring up to five (5) unscratched, expired Upper Deck autograph redemption cards to the Upper Deck Booth on Saturday, November 10 before 4:00 p.m. to take part in The Upper Deck Expired Redemption Raffle Program at the 2012 Sportscard & Memorabilia Fall Expo in Toronto.
For the first time ever, collectors DO NOT need to attend the trade show to participate. Collectors can send in up to five (5) unscratched, expired Upper Deck autograph redemption cards to the address below to participate as well
The Upper Deck Company
Attn. The Upper Deck Expired Redemption Raffle Program
2251 Rutherford Road
Carlsbad,CA92008
Collectors who send in their cards need to legibly write their name, address, phone number and email address to the front of the expired Upper Deck redemption card (in the white area) in black or blue ink. Upper Deck will have 100 PRIZES available in this raffle consisting mostly of limited autograph cards, memorabilia card, unopened boxes and signed promotional items like pucks and hats from Upper Deck Authenticated.
The Upper Deck Expired Redemption Raffle Program will begin promptly at 5:00 p.m. on Saturday, November 10 at the 2012 Sportscard & Memorabilia Fall Expo inToronto where we will pull unscratched, expired autograph redemption cards and reward prizes. Collectors in attendance can pick up their cards right there. Collectors not in attendance will be mailed their card the following week.
Collectors sending in their expired Upper Deck autograph redemptions for the 2012 Sportscard & Memorabilia Fall Expo in Toronto must have them received here at UD headquarters by October 31, 2012.
Leave a Comment