Upper Deck Announces Wrapper Redemption Promotion for 2012 National Sports Collectors Convention in Baltimore, MD
By
The staff at Upper Deck get very excited about participating in the National Sports Collectors Convention and we have really enjoyed the experience over the years. This year we are pulling out all the stops to make the event very special for collectors who head out to the show in Baltimore, Maryland from Wednesday, August 1 through Sunday, August 5.
For starters we have created a very compelling wrapper redemption program for the 2012 National Sports Collectors Convention. Collectors who purchase five (5) HOBBY packs of any of these Upper Deck products from a Certified Diamond Dealer and they will provide you with a special voucher from Upper Deck. Bring that voucher and the packs to the Upper Deck Booth and you will receive one (1) 2012 Upper Deck National Sports Collectors Convention pack in exchange for the voucher and wrappers!
2012 Upper Deck Football
2011-12 NHL SPx
2011 College Football Legends
2012 SPx Football
2011-12 NHL SP Authentic
2012 Upper Deck Soccer
UPDATE: Collectors just need to purchase two (2) packs of 2011-12 NHL SP Game-Used or one (1) pack of 2012 SP Signature Edition Baseball to receive one (1) 2012 Upper Deck National Sports Collectors Convention Pack.
Collectors can bring their voucher and packs to the Upper Deck booth beginning at noon each day and packs will be available while supplies last. Stop by the Upper Deck booth before you purchase packs to confirm we still have inventory of these packs. Collectors are limited to claim five redemption packs, per person, per day. There will be a different five card set available each day.
Thursday, August 2
NSCC-1 – Michael Jordan
NSCC-2 – Thierry Henry
NSCC-3 – Alonzo Mourning
NSCC-4 – Roger Staubach
NSCC-5 – Cody Buckel
Friday, August 3
NSCC-6 – Wayne Gretzky
NSCC-7 – Robert Griffin III
NSCC-8 – David Robertson
NSCC-9 – Don Mattingly
NSCC-10 – Dwayne DeRosario
Saturday, August 4
NSCC-11 – Tiger Woods
NSCC-12 – John Kruk
NSCC-13 – Sidney Crosby
NSCC-14 – Landon Donovan
NSCC-15 – Trent Richardson
Sunday, August 5
NSCC-16 – LeBron James
NSCC-17 – Bobby Orr
NSCC-18 – Jack Morris
NSCC-19 – Brodie Merrill
NSCC-20 – Alex Ovechkin
Now to add to the excitement of this program, randomly inserted into these packs for each day are limited-edition autograph cards. Fans can find autographs from top stars like LeBron James, Michael Jordan, Sidney Crosby, Wayne Gretzky, Landon Donovan, Bobby Orr, Don Mattingly, Trent Richardson, Alex Ovechkin, Robert Griffin III and many more.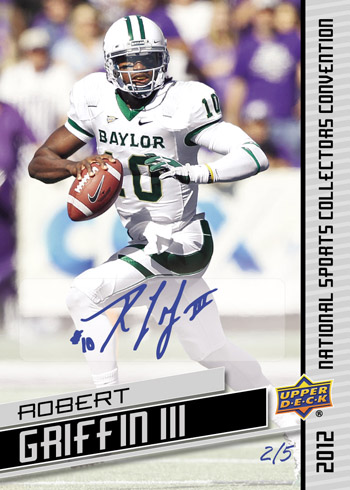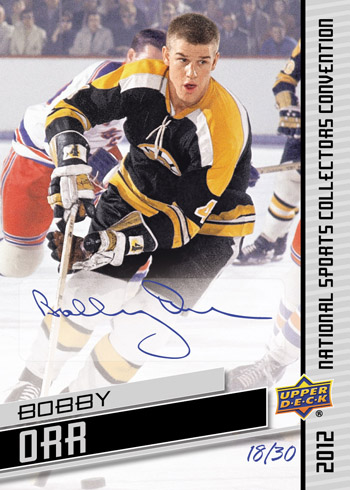 As we saw last year, pulling these autograph cards could be quite a thrill for collectors!
For a super-sized gallery of the autograph cards in this set, click HERE! And look for more details right here on the Upper Deck Blog for some more exciting programs we will have at the 2012 National Sports Collectors Convention including some big announcements on redemptions!
Leave a Comment