Featured Retailer: Untouchables Sports Cards & Gaming Goes Above and Beyond for their Customers in Mississauga
By
We love to spotlight our Certified Diamond Dealer partners and some reasons why you need to visit their stores. In my role with Upper Deck, I try not to play favorites with regard to habby shop owners, but it is hard at times. Some shop owners have become really great friends over the years and others are just very inspirational business people. Parvez Balsara is both to me. He is the owner of Untouchables Sports Cards & Gaming in Mississauga, Ontario and I am a really big fan of his. He's a good friend and a great business man, but most of all he's just a really good guy who looks out for his customers.
I recently attended the Spring Sports Cards and Collectibles Expo in Toronto and Parvez must have come up to me no less than five times during the show with a customer in tow asking me to help out with a variety of situations. I can't think of many other dealers who would stop what they were doing at a busy show, leave their booth, find a resource to help their customer and then stay with them until it was resolved. And when situations come up where we can't help, I know Parvez always does something himself to make the customer feel good. He is successful because he will do just about anything to make sure his customers are happy and well taken care of. This is his story.

Untouchables Sports Cards & Gaming
377 Burnhamthorpe Road East
Mississauga, ON L5A 3Y1
(905)275-0708
Email: Support@untouchables.ca
Website: www.untouchables.ca
Click HERE to "Like" Untouchables on Facebook and click HERE to "Follow" Untouchables on Twitter
Hours: Mon–Fri: 10:00 a.m. – 9:00 p.m., Sat: 10:00 a.m. – 6:00 p.m., Sun: 11:00 a.m. – 5:00 p.m.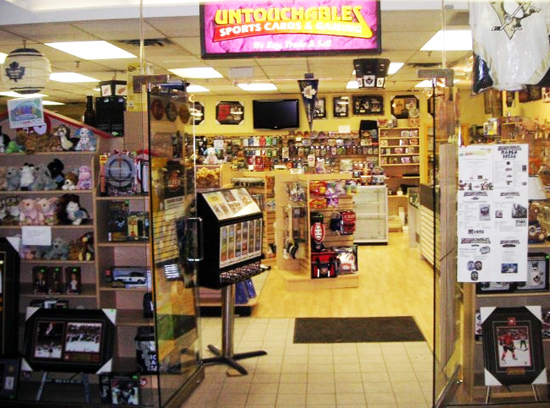 "Untouchables has been a staple in Mississauga, Ontario for the last 23 years and is home to a great group of collectors who are passionate about the hobby. We started off as a very small hobby shop in a corner location of a mall, but through hard work we have grown our business and the size of the store as well. We now have a 2,500 square-foot superstore dedicated to sports collectibles and gaming. It has been an amazing evolution over the years and I am so thankful to our loyal customers for helping us to continue to grow.
"There are always ups and downs in the economy and in this industry as well, but we have found that the best way to keep the store successful is to keep things fun for our customers. Untouchables is a place where collectors of all ages can come hang out, talk, trade, watch sports and unwind. To thanks fans for their support, we have sponsored several athlete signings over the years including one sponsored by Upper Deck where we brought in Tony Esposito. Memories like meeting your favorite athletes in your own neighborhood stay with you forever and we love sharing those experiences with our customers.
"Another way to make visits to Untouchables memorable for our customers is by running a variety of promotions all year round. We recently started a promotion that gives everybody a shot at a great prize like an Upper Deck Sidney Crosby Las Vegas Industry Summit autograph card numbered to 20! We believe strongly that if we give back to our customers and keep them happy, they will be back. Having been in the business for over twenty years, that philosophy has proven to be very successful for us here at Untouchables.
"Our events room can seat over 70 people comfortably. When not being used for tournaments, we encourage customers to unwind and relax here while opening packs. We also host events like 'The Sports Card Trade Night' for every hockey card release. Puck collectors can check out the latest releases and trade with others to get a head start on putting their sets together. Gamers love Untouchables as well as we have tournaments almost every day of the week for trading card game players.
"We run Untouchables with the idea that having a great store with great product is not enough. We want our customers to enjoy a great atmosphere operated by knowledgeable staff who will do whatever it takes to help our customers get the most out of the hobby. We hope you'll visit us soon!"
Parvez works with his wife Anita and I really encourage you to visit their shop. They will treat you like one of the family and you'll feel at home right when you walk through the doors. If you've been, share your experience in the comment section below!
Leave a Comment