How to Open a Trading Card Shop from a Shop Owner's Perspective – Part 2
By
As part of our continuing series of "How to Open a Trading Card Shop," we hear from two other shop owners who have experienced some success and longevity in the business.
Wayne Wagner has owned and operated Wayne's Sportscards in Edmonton, AB for 22 years now. Listen to some of the tips he provides to new hobby shop owners.
Another thing that Wayne has done a great job with to help create awareness for is business has been establishing himself as an expert in sports cards and collectibles with his local media. By taking some time to reach out to local stations, he has been able to get on television to talk about the industry and his shop. Take a look at one of his appearances on Breakfast Television in Edmonton by clicking here.
Next up we have Eddie Doria of Red Nails II in Toronto, ON who owns and operates two retail stores. Eddie shares some information on why location is so important and how to hire staff, take a look!
Additionally, you likely have heard a bit about Upper Deck's Certified Diamond Dealer program. For new shops who want to work with Upper Deck direct, they will need to sign and abide by this agreement. For more on this program and the agreement, we spent a little time with Mark Shaunessy who is the hobby enforcement specialist here at Upper Deck.
I personally have found that those who are serious about opening up a trading card shop will make sure they attend the Las Vegas Industry Trade Show. There you will get some great tips and tactics on how to be successful in this business while meeting great connections in the form of other hobby shop owners, suppliers, manufacturers and leagues who can help you with your business. There is still time to sign up if you haven't already so I encourage you to register now if you are really interested in getting into this business. Upper Deck will be producing some very special cards as a gift for Certified Diamond Dealers in attendance to thank them for their support. Here is a sneak peek at some of the cards in that set: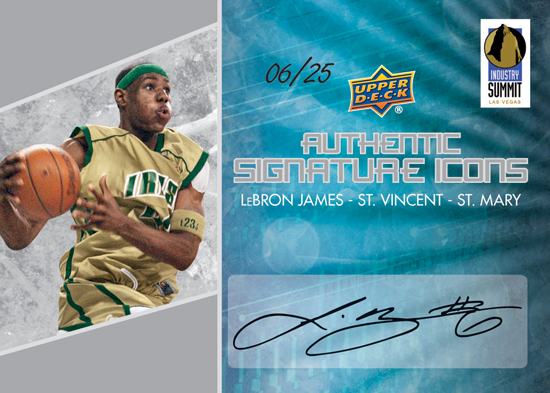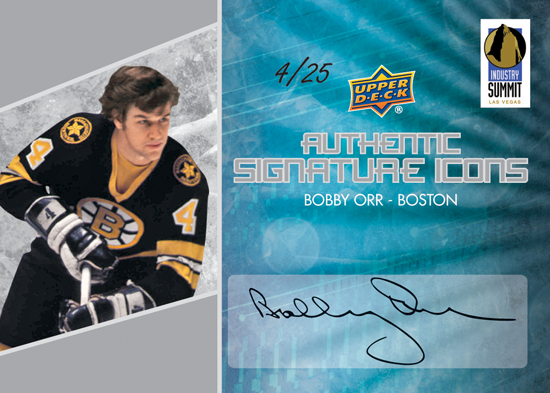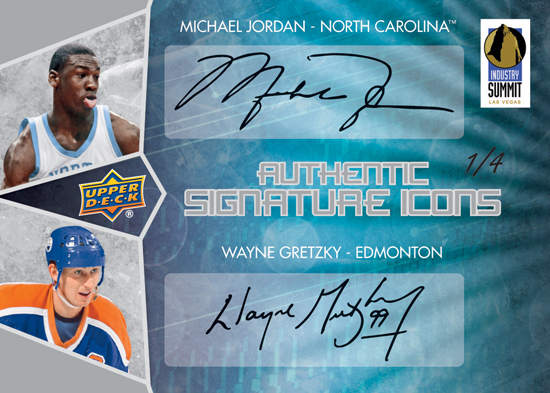 You may still be asking yourself, "Are there really customers out there that want a trading card store in my area?" Recently Upper Deck ran a promotion called National Hockey Card Day where collectors could visit participating Certified Diamond Dealers and get a free pack of Upper Deck NHL cards. Unfortunately not every collector had a shop in their area to visit to score this great giveaway. What does that mean? It means there are opportunities all over the United States and Canada to open a hobby shop and there are fans who would love to see that. Just listen to some of the comments from real collectors received on Upper Deck's Facebook page for National Hockey Card Day:
"I wish there was a Certified Diamond Dealer hobby shop in my town so I could support a local business in my community that sells hockey cards. Hobby shops need all the support they can get in this economy and I would relish the opportunity to support one in my town." Adam B.
"I wish there was a Certified Diamond Dealer in my town because, simply put, I'm tired of buying stuff at Walmart. There's a Diamond Dealer in the next town, but it's too far for me to go there with any regularity. The only things I get to break are retail blasters which, while fun, is nowhere near as satisfying as a real hobby box. I would also love it if the money I DO spend on cards went to a real person instead of a faceless corporation that doesn't give a crap about me or my family." Tyson M.
"Living in Quesnel BC it sucks that there are no card dealers in town anymore. There used to be but since the big box stores took over all of the small shops are closed. Unfortunately, it took the only card dealers away and being a big hockey town it is sad that these options are now gone." Chad G.
"I wish there was a Certified Diamond Dealer hobby shop in my area because my entire life revolves around hockey cards. The only way for me to receive cards is by buying blaster boxes from Walmart or buying them online for more than they are worth." Vincent G.
"I'm a northern transplant to Charlotte, NC. I miss seeing local hockey teams and want to introduce my kids to hockey. If there was a Certified Diamond Dealer nearby I could at least expose them to a little taste of what I had growing up." Bill P.
Looking for more information on how to open up a trading card shop of your own? Check out the first two stories on how to open up a shop here:
How to Open a Trading Card Shop with Southern Hobby
How to Open a Trading Card Shop from a Shop Owner's Perspective – Part 1
The information provided in this story is for assistance only and is not intended to be and must not be taken alone as the basis for an investment decision. Opening a trading card store, like any other business, presents certain risks for the business owner. Each reader of this information should make such investigations as it deems necessary to arrive at an independent evaluation of an investment.
Leave a Comment