Upper Deck Heads North for the 2012 NHL® All-Star Game™
By
The National Hockey League transformed three full floors of the Ottawa Convention Centre – a total of 100,000 square feet – into hockey heaven this past weekend. In collaboration with the 2012 NHL All-Star Game, the All-Star Fan Fair event was attended by over 30,000 fans and was an experience not to be missed. In the center of it all was the Upper Deck booth, jam-packed with excited hockey enthusiasts in search of the latest and greatest in trading cards and memorabilia.
The highly anticipated Upper Deck wrapper redemption program gave fans the opportunity to open three packs of Upper Deck NHL cards and receive one of three exclusive bonus packs featuring:
Pack 1 – Senators center Colin Greening, hockey legend Wayne Gretzky and current All-Star Tim Thomas of Boston
Pack 2 – Senators center Kyle Turris, hockey icon Mario Lemieux and red-hot rookie Ryan Nugent-Hopkins
Pack 3 – Senators player Mika Zibanejad, hockey great Bobby Orr and Pittsburgh superstar Sidney Crosby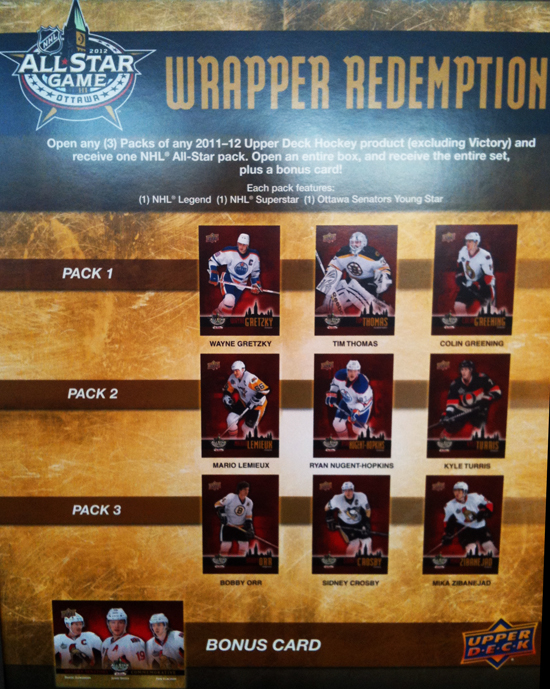 As an added bonus at this year's show, collectors who opened an entire box received a highly sought after limited-edition card featuring Senators teammates Daniel Alfredsson, Jason Spezza and Erik Karlsson.
On Saturday, the crowd got even thicker as Upper Deck hosted a free autograph session with Cody Hodgson of the Vancouver Canucks. Hundreds of fans crammed into the booth, hoping to secure their wristband for a place in line to meet one of their favorite 'Young Guns' in person. Over 300 lucky fans met Cody and received a personalized oversized card, all compliments of Upper Deck.
While the Stanley Cup was the most sought after attraction at the event, followed by free autograph sessions with local and super star players, the Upper Deck Personalized Trading Card station was almost as high on the list of must-see attractions. From newborn infants to great grandparents and every age in between, Upper Deck fans put on an All Star jersey, grabbed gloves and a Stick and posed for their first-ever Upper Deck Rookie Card. The cards were a huge success and lines for the Personalized Trading Cards filled the booth throughout the entire weekend.
Upper Deck memorabilia covered the walls in the booth, and hockey fans were in awe of the new breaking through and ice-charge pieces. By the end of the weekend, the walls were bare as customers happily hand carried their new purchases home. Our network of Certified Diamond Dealers were also pleased with the event, as their cases seemed close to empty by the close of the show. Our two Authorized Distributors in Canada, Universal and Grosnor, also attended the event – lending a hand wherever needed and helping to keep the dealers well-stocked.
Upper Deck's athlete relations team was also able to corral a few all-stars to get them to sign trading cards for new Upper Deck releases. Here Steven Stamkos signs cards for new upcoming products.
Thanks to all the fans who cam out to join us in Ottawa and we look forward to seeing you next year in Columbus, Ohio!
Leave a Comment