Brag Photo: Surprise Hard-Signed Autograph Content Included in 2011-12 NHL Black Diamond
By
Upper Deck's 2011-12 NHL Black Diamond released today and collectors seem to be enjoying the product putting together jersey puzzle cards, scoring great rookies from this year's class and also getting a kick out of the Championship Rings cards as well. But there are some surprises that collectors may find as they bust packs of the product throughout the weekend which is why we did not release the checklist to media until today.
Upper Deck sprinkled in a 2011 Parkhurst Champions autograph cards of Eric Lindros that should be considered very rare. In an effort to reduce redemptions, these cards were pulled from the initial product and when they came in recently, we decided to deliver the next available release (2011-12 NHL Black Diamond) as a surprise insert to get them into the market. The non-serial numbered Lindros autograph cards all belong in their respective Group A seeding for the Parkhurst Champions autograph checklist.
Next, we received in nine (9) total buyback cards for Sidney Crosby that were randomly inserted into 2011-12 NHL Black Diamond. Collectors may be lucky enough to find a hard-signed version of his Premier Cuts, Pride of Canada or Run for the Cup rookie cards numbered to just three copies.
Worthy of note, these cards are all have a numbered hologram on the back and a Certificate of Authenticity card that goes along with them. The COA card has a matching numbered hologram on it. DO NOT purchase these cards without the hologram on back and a matching COA card like you see below as they are very likely counterfeits.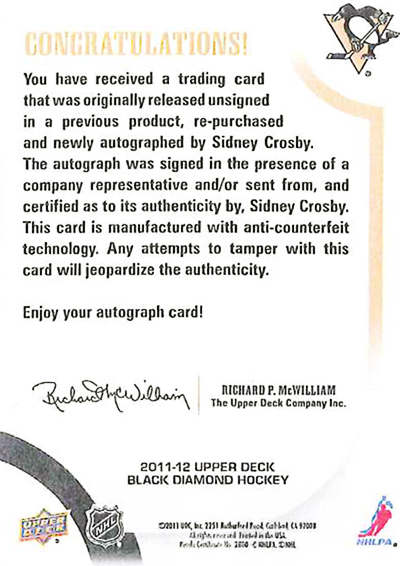 We hope you enjoy 2011-12 NHL Black Diamond and wish those of you luck in finding some of these exciting new additions to the product!
Leave a Comment