Upper Deck Debuts National Hockey Card Day in America in February 2012
By
Since 2009, Upper Deck has partnered with Canadian retailers to put on the wildly successful National Hockey Card Day program where collectors can receive a FREE pack of NHL trading cards just for visiting participating stores on a specific day. Retailers love the event because with so much traffic in their stores, they usually have great sales on that day. Customers love it because they are getting something for free and because retailers usually run a variety of specials and promotions to capitalize on all the store traffic.
The one complaint Upper Deck has received over and over again was, "What about the NHL fans in the USA? Where's our special day?" Well on February 11, 2012 Upper Deck is bringing puck fans in the states a National Hockey Card Day all their own!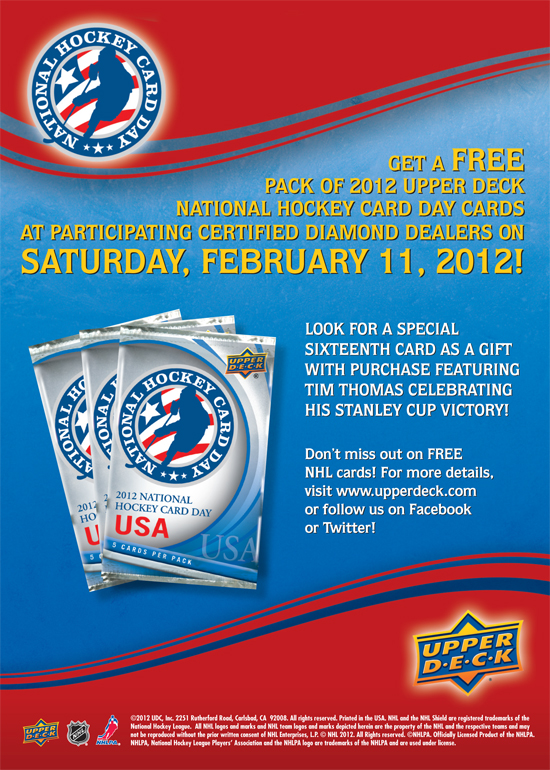 The giveaway will begin the day before Hockey Day in America which is scheduled to take place on Sunday, February 12, 2012, taking advantage of the heightened interest in hockey across the USA. Upper Deck's 2012 National Hockey Card Day America packs will be delivered exclusively through the company's network of Certified Diamond Dealers who operate brick and mortar hobby shops throughout the United States. Puck fans can visit one of these shops and receive a FREE pack of Upper Deck NHL National Hockey Card Day cards while supplies last. Upper Deck will share a list of participating retailers as the event draws closer.
The American version of National Hockey Card Day will have many of the same features as the Canadian version, but with some unique twists. The program and set will be exclusive to American hobby shops and will feature top American stars, but also international stars from top American franchises. There will be some rookie content, but a greater emphasis will be placed on these tops stars and legends. Next, a special 16th card of Tim Thomas commemorating his recent Stanley Cup victory as a member of the Boston Bruins is available as a gift with purchase. Upper Deck will also be sprinkling in some very limited autograph cards randomly into packs including some big names that will be sure to have collectors excited.
Upper Deck will also be taking the experience of National Hockey Card Day online through the special Facebook page created for the program. Upper Deck will offer fans a variety of FREE giveaways where they can score packs, boxes, blow-up cards and signed memorabilia just for sharing their experience with us by posting photographs or video to that Facebook page. Make sure to "Like" that page today to take part and get other updates about the event!
If you have never seen what National Hockey Card Day is about, check out images from the 2011 event in Canada by clicking here. In the meantime, enjoy a first look at the cards in the 2012 Upper Deck National Hockey Card Day in America set. In terms of the design we wanted to go with a sleek look with lots of use of red, white and blue. For the "American Icons" and "Memorable Moments" cards we incorporated bronze and gold coloring which came out looking great.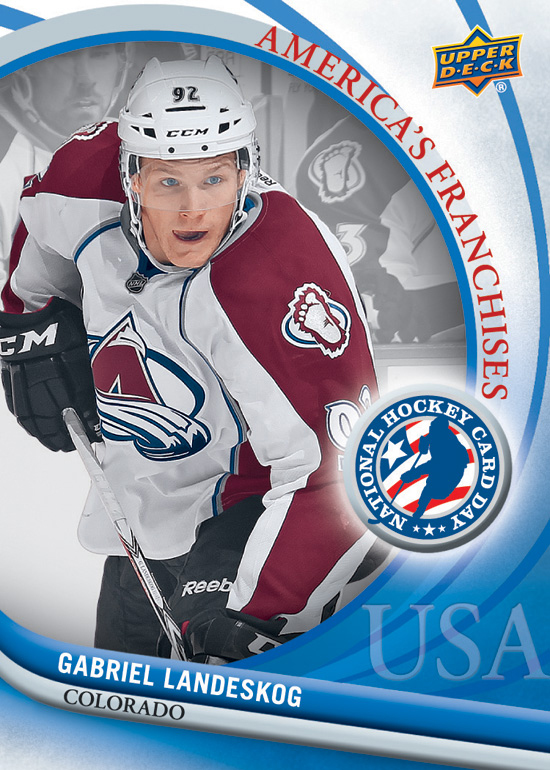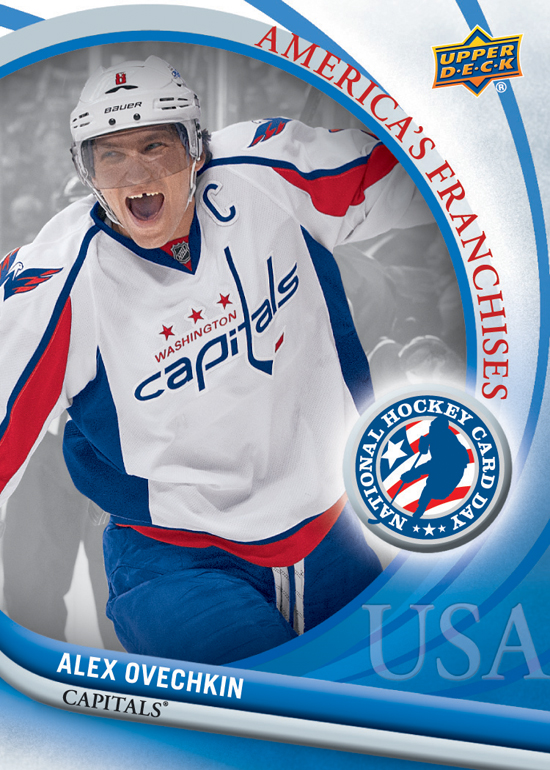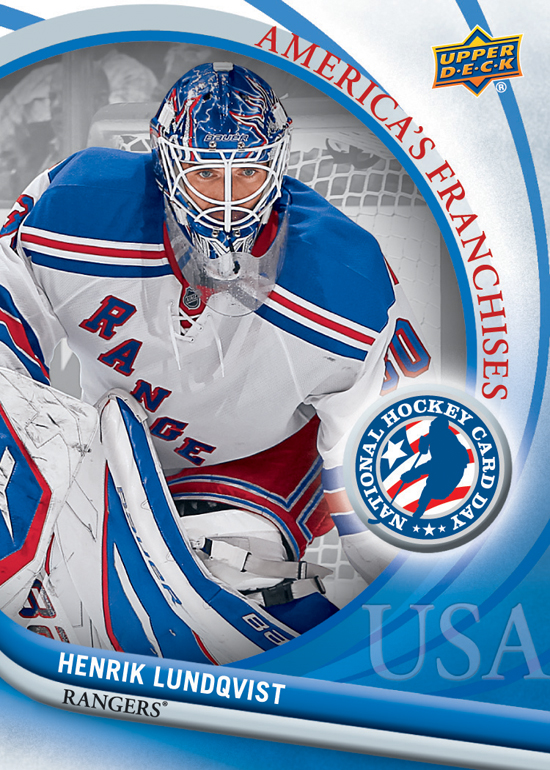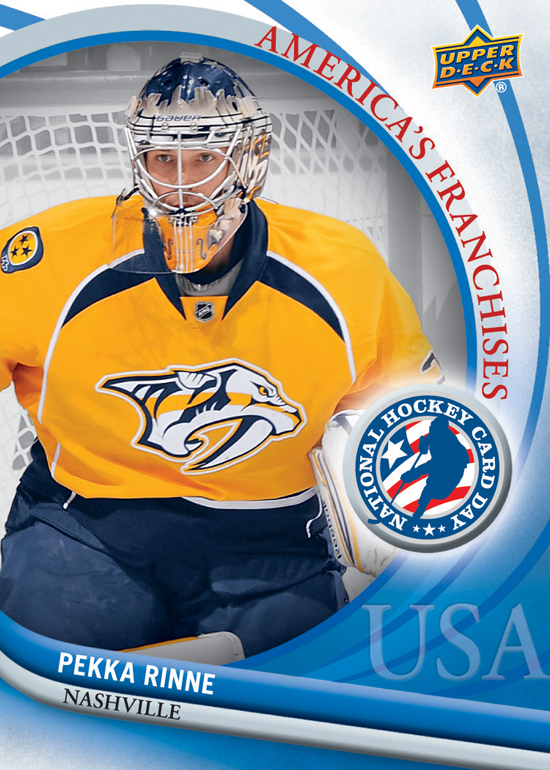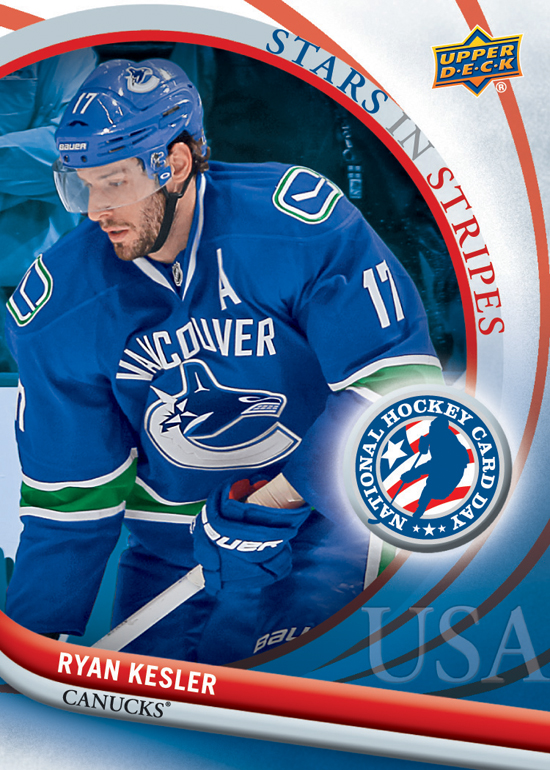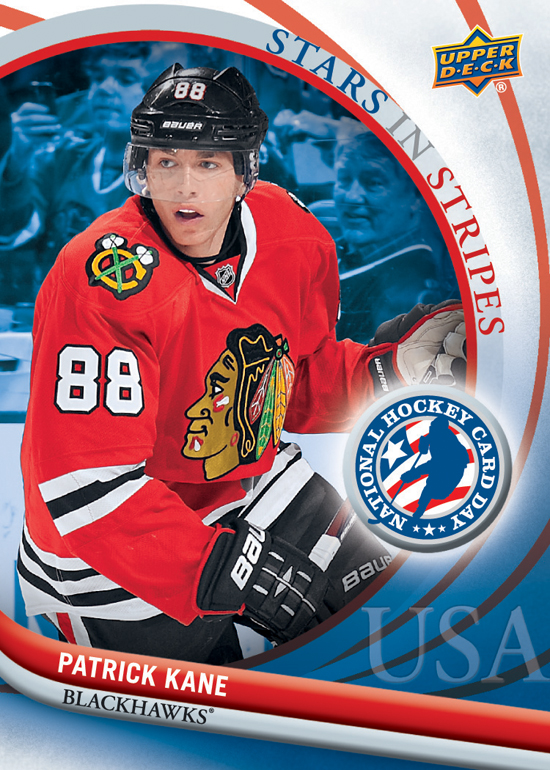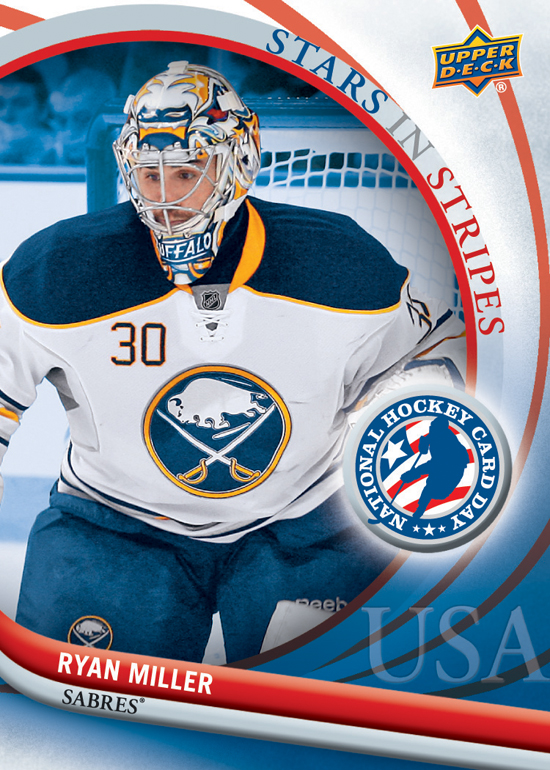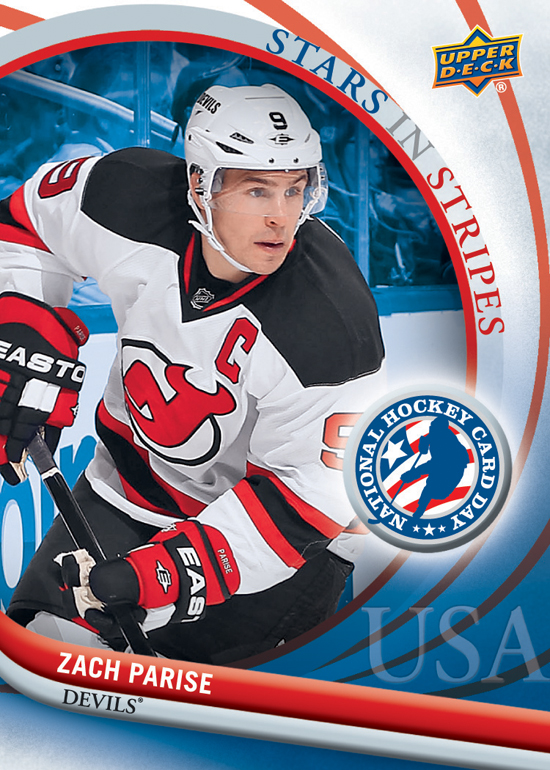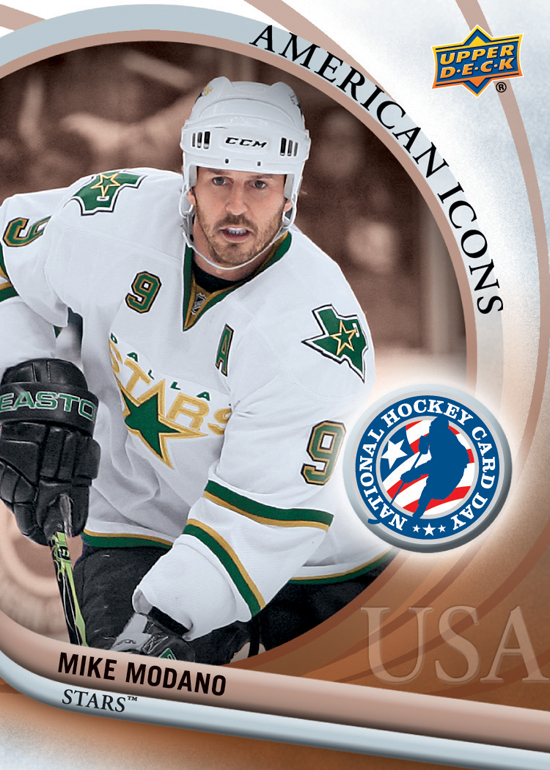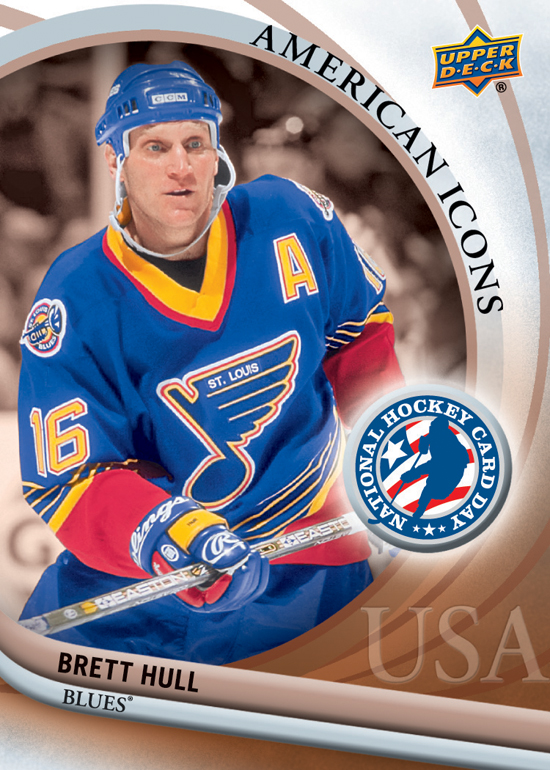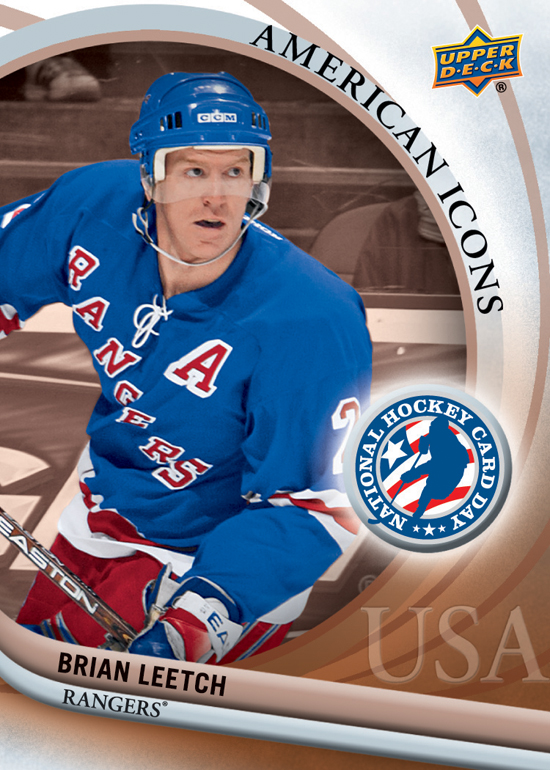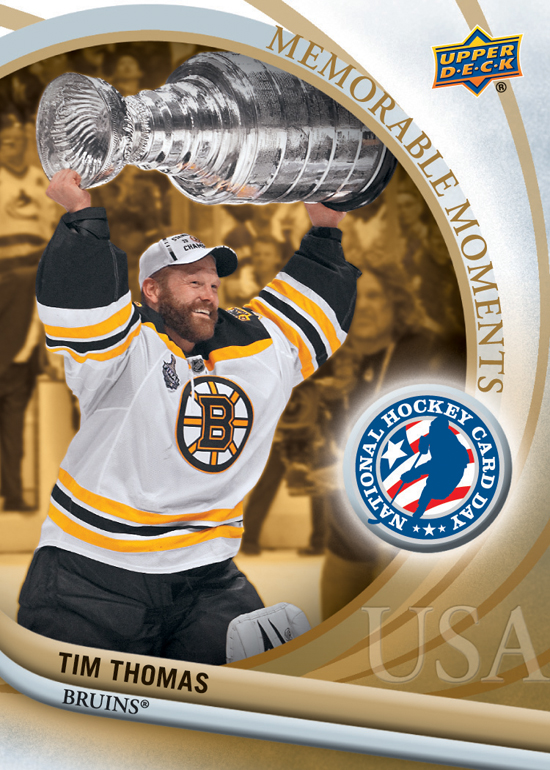 Leave a Comment