Calling All Texas Longhorns Football Fans; Finally a Trading Card Set Just For You!
By
Is burnt orange the most prevalent color in your wardrobe? Have you ever named one of your pets Bevo? Do you use "Hook 'em Horns" as a way of saying hello or goodbye? If you answered yes to any of these questions, you will be thrilled with the new college football trading card product coming out this November. Through Upper Deck's exclusive agreement with the Collegiate Licensing Company, the trading card company will be producing a standalone trading card product commemorating the rich history of the Texas Longhorns Football program.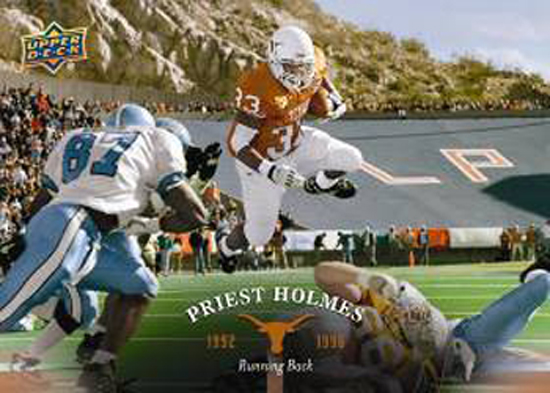 The University of Texas has won four national titles; while appearing in 49 bowl games; second most in NCAA history. Each pack will be loaded with prominent Longhorn football alumni like Colt McCoy, Jamaal Charles, Steve McMichael, Darrell Royal, Ricky Williams, Priest Holmes, Major Applewhite, Vince Young, Earl Campbell and more.
The 100-card base set will also include 20 "Monumental Moments" cards that capture those special moments that gave Texas fans goose bumps through the years. From the first bowl game victory in 1943 against Georgia Tech to the "Game of the Century" in 1969 against Arkansas on to the 2006 Rose Bowl victory over USC; Upper Deck chronicled all those memories for UT fans.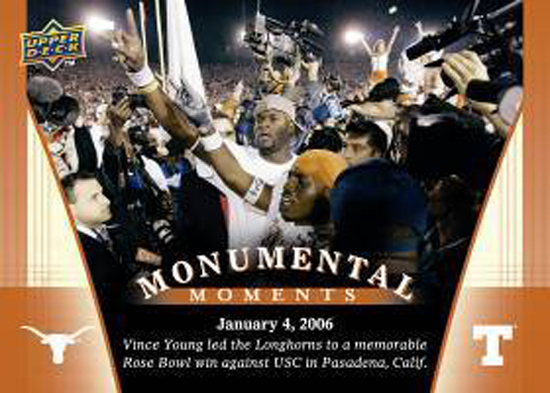 This is the most comprehensive University of Texas Football set ever assembled. Each hobby box will contain one autograph card from a Longhorn great, and two special light F/X Texas Icons inserts! Every box is loaded with cards of 192 Longhorns legends (24 packs with 8 cards per pack)!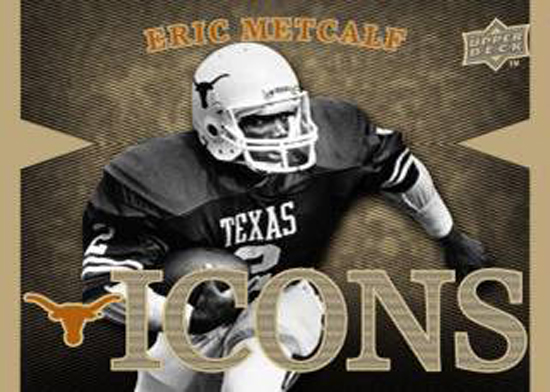 And speaking of the signed cards cards, there are some amazing collectible cards to capture for the autograph lovers. Not only are there single signed cards over 80 former Texas stars, there are also dual autograph cards (numbered to 20 or less) and triple autograph cards (numbered to just 3). Some of these are sure to become the centerpiece of a Texas fan's collection.
Upper Deck has a special treat for those who purchase the University of Texas Football retail blaster boxes! Fans can find one replica championship pennant per blaster box, showcasing the years Texas has won it all: 1963, 1969, 1970 and 2005.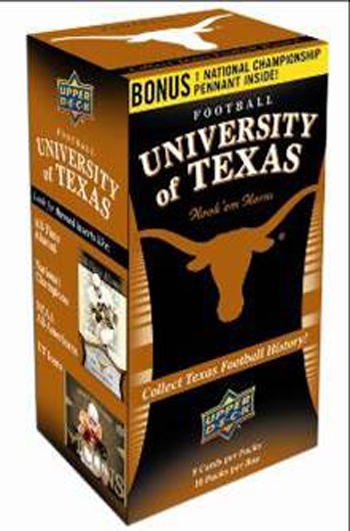 But how do you get your hands on your Upper Deck University of Texas Football boxes? Well first you need to be a little patient. The product is currently scheduled to hit store shelves on November 15, 2011. If you are in Texas, check out these Upper Deck Certified Diamond Dealers who will be loading up on the product:
Sports Cards Plus – San Antonio, TX (210)524-2337
SMP Sports Cards – Grapevine, TX (817)251-1752
Nick's Sportscards – Dallas, TX (972)248-2271
Card Traders of Austin – Austin, TX (512)250-0958
Kenny's Collectibles of Austin – Austin, TX (512)748-9718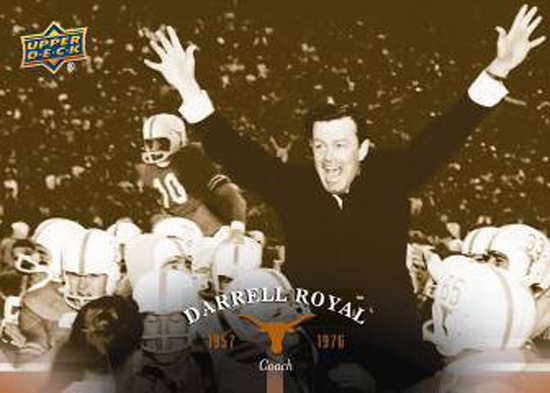 Or you can purchase through the Upper Deck online store or through our network of Authorized Internet Retailers. Enjoy and "Hook 'em Horns!"
Leave a Comment