Vote Now for the Upper Deck Awards!
By
Nominations started last week, and today we're announcing the nominees for the Upper Deck Awards! If you missed last week's post, here are the details:
We will be giving out three awards: Best Online Community, Best Blog and Best Video Box Breaker.
The Best Online Community will receive: a trophy, a variety of unopened product, a LeBron James UDA basketball and a 2009 NFL Rookie Photo Shoot signed football (autographed by more than 25 players) to use as giveaways with their community of loyal collectors.
The Best Blog will receive: a trophy, a variety of unopened product and a 2009 NFL Rookie Photo Shoot signed football.
The top five Video Box Breakers will receive a box of product to break and review, which we'll post on Upper Deck Diamond Vision. The winner will receive product from us throughout the year, and all of their box breaks will be featured on Diamond Vision!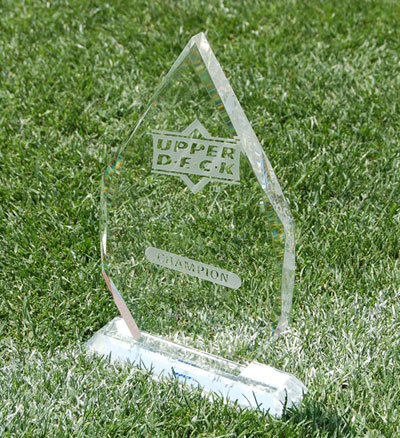 And here are the nominees!
Best Blog (click here to vote now!)
7th Inning Stretch: blog.tuffstuff.com/7thinning
A Cardboard Problem: acardboardproblem.com
The Basketball Card Blog: basketballcardblog.com
Canada Card World: canadacardworldblog.com
Cardboard Icons: cardboardicons.com
Cardboard Junkie: cardjunk.blogspot.com
drewscards: drewsbbcards.blogspot.com
Field Level View: fieldlevelview.com
First and Goal: firstngoal.wordpress.com
Mojo and Beardy's Fantastic Card Blog: mojobeardy.wordpress.com
Opening Day Cards: openingdaycards.com
Trader Crack's Card Blog: tradercracks.blogspot.com
Voice of the Collector: voiceofthecollector.com
Wax Heaven: waxheaven.com
Best Online Community (click here to vote now!)
Cardboardconnection.com
Cardboardtalk.com
Cardcollectorsworld.com
Cardinformant.com
Cloutsnchara.com
Freedomcardboard.com
Hobbyinsider.net
Hobbykings.com
Hockeyden.net
Hoopography.com
Ozcardtrader.com.au
Sportscardforum.com
Sportscardfreaks.com
Sportscardhaven.com
Sportscollectorsdaily.com
Thebenchtrading.com
Thetradersarena.com
Traderretreat.com
Tradingcardcentral.com
Ultimatecardboard.com
Best Box Breaker (click here to vote now!)
allenmpc – Attyball23
ATMSportscards
Box Rippers – blackmagik44
BoxBreakersAnonymous
Cloutsnchara
The Doctor Wax Battle Show – TheBackstopDOTnet
FoxSportsCards
The Hobby Box – CHRI5784
SBLEZ AKA SCOTT
ThetTruth17 – TheTruth17
The polls will be final at 9AM on April 5th, with the winners announced on April 7th. So vote now for the Best Blog, Best Online Community and Best Box Breaker!
Leave a Comment