2009 Exquisite Football Carries on Tradition of Quality Rookie Cards
By
Back in the beginning of 2008, the 2007 NFL season was all but over, and collectors were gathering their funds for 2007 Exquisite Football. The product was to be released right after the Super Bowl, and many of the fans were anxiously waiting for the year's best product.
In 2007 Exquisite, there were a number of rookies that made fans salivate over the possibility of huge values, then and in the future (superstars like Adrian Peterson and Calvin Johnson). Peterson was coming off one of the most impressive rookie campaigns of all time, and Calvin Johnson was developing into one of the league's top receivers. It is now two years later, and both of these NFC North rookies have accomplished something that few have done – held the enormous value of their Exquisite rookie cards.
Many players have come and blew up in their second or third seasons. Aaron Rodgers and Marion Barber come to mind, but there aren't many who have lived up to the hype quite like "All Day" and "Megatron" have. You may remember that in 2006, Reggie Bush, Vince Young and Matt Leinart composed the hype class of the decade, and sales of 2006 Exquisite reflected that fact ten fold. Bush's Exquisite rookie card was one of the most valuable modern day rookie cards of its time, but unfortunately, the hype was bigger than production. This led to a slight drop in value for him, as well as his brethren who also had subpar sophomore and junior seasons. Unlike these players, who started big and ended up smaller, Peterson and Johnson have yet to experience anything close.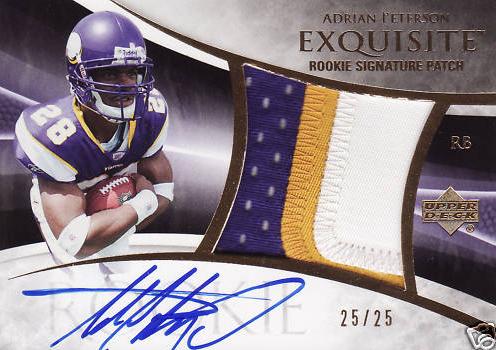 When Exquisite was first released, Peterson's auto rookie patch was selling in upwards of thirteen hundred dollars without blinking. This was due to a record setting 296 yard game, as well as 1500+ yards and 10 scores on a bad team that picked in the top ten. Since that time, Peterson has put up a season of 1700+ yards, 21 more touchdowns, and we aren't even through his third season yet. As a reflection of the massive production, his values have stayed right at the original mark upon release. Almost unprecedented for a hype-laden player like Peterson, especially when you consider this is his first year with a talented QB that can draw defenses away from him.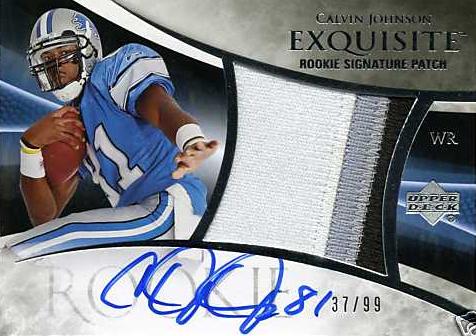 Johnson is definitely in the same boat as Peterson, with very little loss in value off his initial price upon release. He was the third pick in 2007, and was playing on one of the worst teams in NFL history. However, he has had two great seasons, and is in the midst of one that would have been on track, if not for injury. Back when Exquisite first came out, his values were up around three to four hundred dollars with just about every sale. Today, not much has changed, with many of his nicer patch cards easily eclipsing the same price threshold of before. As he and rookie QB Matthew Stafford grow as players, his card values should continue to reciprocate that growth.
Speaking of Stafford and his fellow rookies this year, we are on the verge of getting our first taste of 2009 Exquisite Football, which could be one of the most valuable Exquisite sets since the beginning of the brand. Looking at the production of this class, there are more than a handful of elite level rookies that will command top dollar, as well as tons more that are on the verge of breaking out. Players like Stafford, Mark Sanchez, and Percy Harvin are going to be the top valued rookies of the set, and the success of Peterson and Johnson may be a reason to buy in early as an investment. Although it's tough to gauge the long term prospects of their careers, the 2009 rookies look primed for very productive seasons in the NFL, which is always good for their values in the hobby.
When considering the success of Peterson and Johnson in the hobby, its tough to overlook players like Chris Johnson, Joe Flacco and Matt Ryan, who may be the next group of rookies to live up to their top potential in the league. Like many of the top rookies of the class, these guys have played like freight trains and airplanes respectively. Johnson has torn up the NFL this season, leading the league in yards per carry average, yardage, and plays above 20 yards. He is near the top in TDs, and is playing on a team that has had a miserable season. Flacco and Ryan are very much duplicating their 2008 seasons, with both having good QB ratings and high TD/INT ratios. Their values have stayed put or risen since last year, and should be on the short list of guys to continue to have big success.
Overall, I still am pretty impressed by the way the Exquisite cards are performing in general, even as much as four years after release. When you look at card with enormous hobby impact like Peterson's rookie auto patch, it's crazy to think that this card is selling for what it is, despite being in one of the biggest economic recessions in history. The fact is, Exquisite has continued to be the granddaddy of all high end products, and is showing no signs of slowing down.
When the first look of 2009 Exquisite hits the net, I will guarantee the excitement will be palpable, and it goes to show what this product means to collectors. When a card or product has that kind of power in this hobby, it's clear that an investment in Exquisite will never be a bad idea.
Adam Gellman runs the collecting blog Sports Cards Uncensored, and has been a collector of all things sports for over 15 years. To see more of his work, visit www.sportscardsuncensored.com (warning: strong language!).
Leave a Comment