The Forgotten Fall Classic
By
There's so much going on in sports right now: we've got a heated Yankees/Phillies World Series, the start of the NBA season, the NFL is at the halfway point, and hockey is revving up too. Yet with all of these great sports options this time of year, there's one particular event starting this weekend that has been unfairly overlooked, ignored, and hardly mentioned.
This weekend the playoffs begin for Major League Soccer, and I will be the first to admit that even thinking about it gets my blood going. Let me give you an idea of how myself, and thousands of others can get so hyped up on what you may consider such a boring thing to watch. Let me see if I can impart some of my fire.
In America we love high scoring games. We love to see one team pummel another so much that the physical evidence is displayed blaringly in bright lights.  Scoring point after point in sports gives us some unexplainable satisfaction. We live for it. We can't get enough of it. We always want more.
With that being said, think back on the last game you attended or watched on television. Sure, it was cool to see your team hit another three, or score another touchdown. You might have even cheered and done a fist pump, but less than a minute later that feeling is gone. You know another score is coming, and the anticipation does not last long. The only real time you get yourself wholly committed to the game is when it comes down to the wire. Seconds are ticking away too quickly as your team makes its final push. Then, when that last shot goes in at the buzzer, you are out of your chair screaming at the top of your lungs, chest bumping your neighbor, and spilling beer all over yourself. That is the real moment we live for.
Now take those feelings, and imagine that excitement lasting for ninety minutes.
Soccer is the only sport I can think of in the world where the anticipation for that one single goal keeps people standing the entire time. You can physically feel the energy as soon as you enter the stadium. Even the most hardened anti-soccer fan is drawn into the game by the positive vibe oozing from absolutely every corner of the field. I have personally seen the transformation of a 'soccer is so boring' attitude into a diehard soccer loving freak. It's all because they allowed themselves to enjoy one game.
Remember the elation from the final seconds of the fourth quarter? Take those feelings and bottle them up inside yourself. Now watch as the soccer ball moves closer to the goal, as the player tries time and again to put one in the net. Every moment puts you closer to letting it all out. Multiply that by 30,000 other people around you. The air becomes thick with the excitement because you know it is going to happen.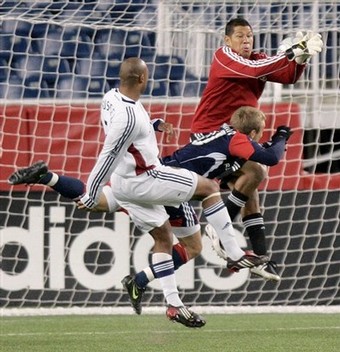 There it is. We finally score. In that one moment all of those feelings building inside come bursting out in your very own prehistoric yell and mixes with everyone else around you. Absolutely electrifying. Even now I have goose bumps. I cannot wait to feel that again this Saturday.
Scoring in soccer is not a given. It is a gift. So each time that gift is given it is relished far more than any touchdown, any layup, or RBI. Each individual goal has its own power to change the outcome of a game and a season.
In that spirit, starting this coming Saturday, eight teams begin their push to be called the champions of soccer in America.
Of the fifteen teams that make up the league, seven were fighting for only three playoff spots heading into their final games of the regular season last weekend. To go into each separate scenario would not only take up a lot of time, but also cause more headache than anyone can handle. For example, Real Salt Lake could have moved on or been kicked out with no less than eight different outcomes. Fortunately, the stars aligned and they pushed through. For other teams like the Colorado Rapids (who ended their season last week), too much was left to chance and the performances of rival teams.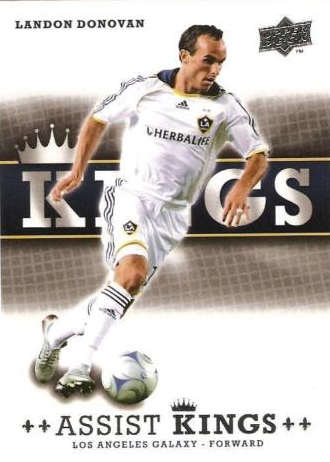 In case you're not familiar with the structure, here's a summary. In MLS, the top three teams of each conference are rewarded with spots in the playoffs. The next two teams with the best record then take slots number seven and eight. This year seemed to have ended up a little lopsided with three teams from the East and an astonishing five from the West.
Here is the breakdown with the total point accumulation next to each team. Three points are earned with a win, one with a tie, and zero for a loss:
East: Columbus Crew (49), Chicago Fire (45), and New England Revolution (42)
West: Los Angeles Galaxy (48), Houston Dynamo (48), Seattle Sounders (47), Chivas USA (45), and Real Salt Lake (40)
The playoff format starts with every matchup playing one game at home and one away. (It is interesting to note here that Chivas USA and the Los Angeles Galaxy play in the same stadium. So the question would be who has home field advantage?) The team with the most goals scored moves on to the next round, which is the conference championship, and from that point on the tournament turns to single elimination. The winner of each conference will then face off in the ultimate showdown of soccer domination. How can you not be excited?
This weekend take a moment to find a team to follow. Whether it is the Galaxy because of David Beckham, or Real Salt Lake as the underdogs, just pick one and get ready to cheer. Letting soccer into your already overloaded sports lifestyle may seem hard at first, but I promise after you give this game a chance you will be cheering louder than you thought possible.
Logan Millard works and lives in Salt Lake City, Utah. Aside from his full time job he works for the Utah Jazz as a media relations coordinator on game nights, and also helps Fox Soccer Channel when they are in town as a sideline producer.
Leave a Comment