O-Pee-Chee Baseball 2009 New York Mets Checklist!
By
Thanks to this here blog, and the fact that my cube has plenty of orange and blue memorabilia, I'm known as "the Mets guy" here at Upper Deck. Which is pretty cool: whenever there's a Mets item around, someone is often nice enough to drop it off at my desk to keep.
Earlier last week, the 2009 O-Pee-Chee Baseball team checklist for the Mets was dropped off here, and I always appreciate the gesture. With this particular item though, I couldn't help but feel that something was fundamentally wrong. I mean, if you've followed baseball this year, you're aware of the many injuries that have plagued the Mets. So I decided to touch up the card a bit: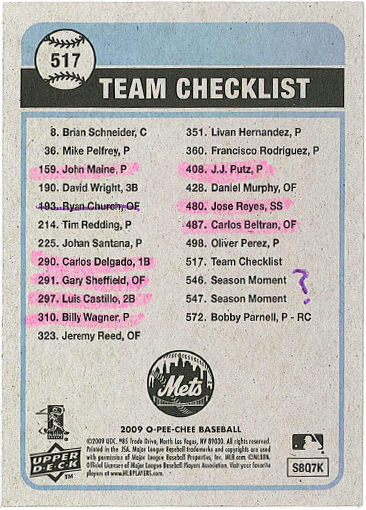 There. That's more like it.
Leave a Comment