Andrew Long: A Rookie Gaining Momentum
By
You won't find him starting for your favorite team. Upper Deck doesn't have any plans of making a trading card for him anytime soon. You may, however, see his name in lights someday.
His name is Andrew Long and he's a self-professed sports card super-fan who is dedicated to putting a smile on the faces of collectors and sports fans around the world.
Over the past few months, Andrew has written, directed and starred in a variety of short films that have been receiving accolades from the majority of collectors watching. We sat down with him recently to find a little bit more about what makes him tick and what we can expect next.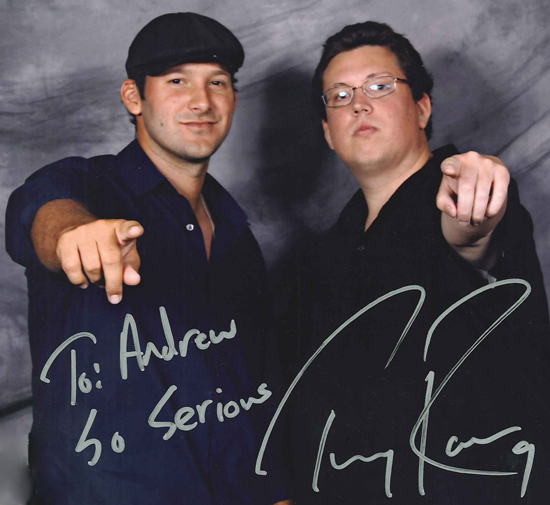 UpperDeckBlog: Give us some background on you. How old are you? How did you get into card collecting and acting/directing?
Andrew Long: You're right, let's do the boring biographical stuff first. I'm 28 and I got into card collecting as a collateral interest to hockey, which I fell in love with around age 10 or so. My interest in cards waned in high school, but a few years ago I impulsively bought a few Target blasters and after pulling a Jagr game-used card, I was sucked back in. Sports cards in general have become way more ambitious which is exciting.
Getting into acting was unexpected. In truth, I'm not sure that I'm actually "into" acting, I'm into comedy. I was never into acting, but I always loved the improv show, "Whose Line Is It Anyway?" My mother was looking up acting parts for my sister and spotted an open audition for an improv comedy troupe. I went and auditioned, without a headshot or resume. Being on that audition stage and doing what they were asking me to do felt great. It felt natural and I loved the freedom of it. I must have done okay, because I got a call the next day with an invitation to join.
Directing is nothing but a necessary evil to ensure the humor comes off right. My partner and I share that duty, as he has a terrific visual imagination and I have a good nose for what can be exploited in a comedic manner.
UpperDeckBlog: So there have been thousands and thousands of collectors making box break videos where they open Upper Deck products on film and show off what they got. What gave you the idea to do something so different with videos like the "Packs to the People" series?
Andrew Long: When I don't have money to spend on cards, I turn to the vicarious thrill of YouTube breaks to tide me over. However, the breaks themselves bore me as they are usually long and boring. When we made the first video for a contest on SportsCardForum.com, I just tried to think of something I'd want to watch. I like breaks. I like getting into trouble. And just like that, "Packs to the People" was born.
UpperDeckBlog: What has been the response to the "Packs to the People" series so far?
Andrew Long: People have been overwhelmingly positive and supportive so far. These videos are fun, but they serve the hobby on many levels. My goal was to get people who don't collect cards to start doing so. Most people aren't aware that Upper Deck even inserts game-used memorabilia and autographed cards; so when I show them what they can pull, their reactions are pretty interesting and help to make the videos fun to watch for people very familiar with card collecting.
UpperDeckBlog: Your last two videos in particular for SP Legendary Cuts and Draft Edition Basketball have been getting some really positive reviews. Do you have any funny stories about filming those and anything interesting that may have ended up on the cutting room floor?
Andrew Long: Well, there are always people hesitant to appear on camera, but particularly so with Legendary Cuts. Lots of those are funny, but we don't film them all. All I'm asking people to do is open a pack of trading cards on camera, but it's like they hear me asking for their ATM pin code.
There was plenty of funny stuff I loved that didn't make it into the Draft Edition video. There was one segment I liked in particular where I had convinced a young lady that Kevin Garnett regularly comes over to my house, because I am a master Vietnamese chef and I cook him all his favorite Vietnamese dishes.
UpperDeckBlog: You seem to have no fear going up and talking to complete strangers or star athletes, have you always been like that?
Andrew Long: Since I was a teen, I've had something of an audacious streak, but make no mistake: I'm afraid. I've learned from experience that all the best stuff in my life has come when I've put aside my fear and just gone for it. A lot of this ability came to me when I was learning comedy. You learn to cope with the looming danger of utter failure and complete embarrassment.
UpperDeckBlog: Your upcoming video for Upper Deck's The Cup Hockey brings you back to your favorite sport, but it will be a much different video than collectors have seen before, tell us a bit about it.
Andrew Long: It provides a comical reason for The Cup being delayed delayed. It involves the most diabolical of human tendencies with Shakespeare's favorite emotion: jealousy. Well, sort of. It's really just our fun version of a summer blockbuster action movie. Part of the humor we were shooting for was to obviously be targeting a big budget-type feel while actually producing a very amateur looking movie. With any luck, it'll strike a nice balance.
UpperDeckBlog: There are a lot more characters in this video than you've had in prior videos, tell us a bit about who the characters are and the actors who play them.
Andrew Long: My co-star in the video is my good friend, Brian Han. His natural personality is incredibly good for comedy. He has a flat, very bottom-line air about him, with one of the most acute and sophisticated senses of humor I've ever come across.
Rob Guzzo and Todd Lyons play the henchmen in our movie. Rob Guzzo was a Navy SEAL for five years. You can tell the man knows how to kick some butt. Todd Lyons is a solid commercial actor, and looks good with a fake mustache (wait for it, you'll see). I felt really lucky to get both, they were both fun to work with.
The lead villain is Jonathan Lucero who is an up-and-coming actor who is a veteran of the Orange County community theater circuit. He and I made Upper Deck history together, as you will soon see.
UpperDeckBlog: So you filmed portions of the video at Upper Deck Headquarters. Most collectors would really enjoy an experience getting to go behind the curtain so to speak. What were some of the more unique things you saw that excited you there?
Andrew Long: The first time I was there, I walked into the room where they keep a lot of juicier stuff and sitting on the desk, about to be sent out, was a Michael Jordan autographed buyback rookie card. I was like, oh look, a $15,000 card. We saw some autographs that were yet to be made for the 2009 SP Legendary Cuts Mystery Cuts and Prominent Cuts including Bruce Lee and Sigmund Freud which was really cool. Seeing the manufacturing process was interesting, where they cut up the jerseys, the number stamping machines, all that.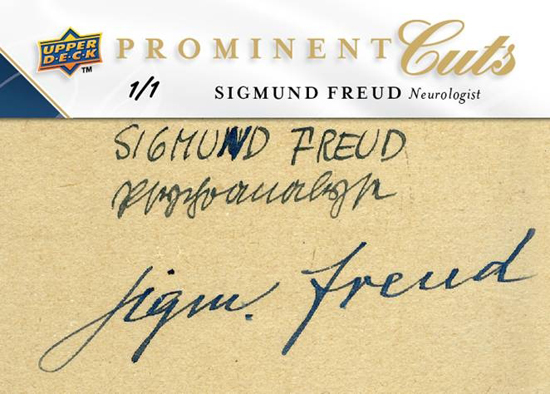 UpperDeckBlog: So when can we expect to see your blockbuster, "For The Cup" and what's next for you?
Andrew Long: "For The Cup" should be out in the next couple weeks. As for our future projects, I really want to push the limits of what we've done so far. I have tons of ideas for strange and curious concept break videos and I think a "Packs to the People" live show is a real possibility. I get bored easily, especially with my own material once it's gone a particular direction for any length of time, so expect us to be changing it constantly.
Other than that, I found out recently that I'll be heading to Toronto next week to spend some time with the new 2009/10 NHL Rookie Class for Upper Deck. That should be interesting and a lot of fun as well.
UpperDeckBlog: Last but certainly not least, as far as we know, nobody has ever even dipped their feet into the Upper Deck pool at corporate headquarters. The rumor is you did that and more during this latest video. Tell us a bit about that experience and how you managed to convince Upper Deck that it was a good idea.
Andrew Long: I did breach the sacred waters of Upper Deck, yes! Though it's not exactly a pool. It's clearly a body of water that is for looks only. That's mostly what made me want to go in it. I'm not sure that I have actually convinced UD (or their pool man) if it was a good idea to go in there. What I can tell you, is that virtually every passing employee was absolutely shocked to see us in there. There were a lot of smiles and really, that's what it's all about.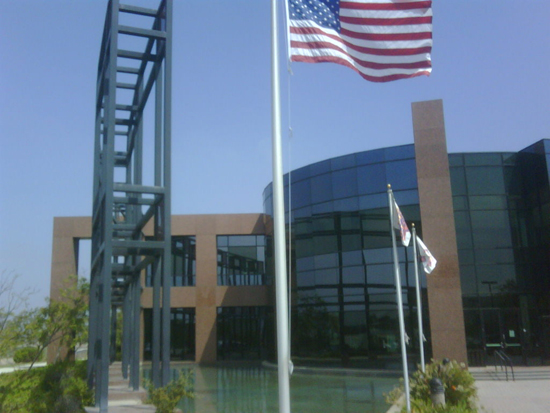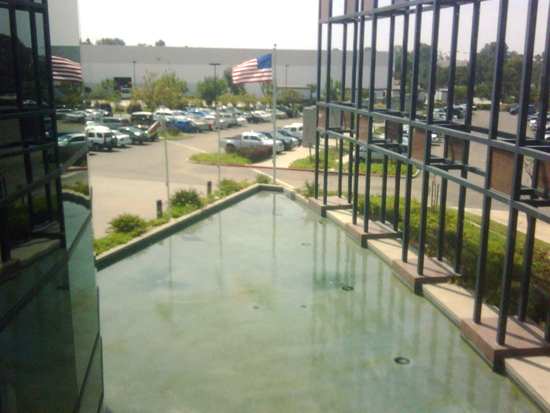 Leave a Comment