Interview with SDSU Coach Tony Gwynn
By
Seeing as how his name is on the stadium and he's coaching the team, Tony Gwynn was definitely the guy to interview today (Strasburg himself, understandably, has limited direct media access). Gwynn has a reputation as being a friendly guy with tremendous respect for the game of baseball, and that definitely came through in this interview. Although he gives Stephen his due, amidst the media frenzy, his goals are still winning.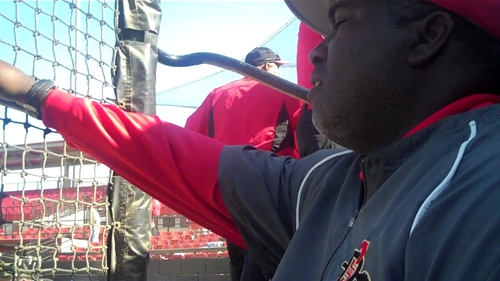 UpperDeckBlog.com: Does it mean a lot to you to have a local guy like Strasburg who's from San Diego, was raised here and his parents went here too on the team?
Gwynn: Honestly? No. It's nice that a local kid has come to San Diego State, and ascended to this level.  But the bottom line, for us, is we've got to win games. When you go recruit kids, that's the first question they're going to ask: "What's your history of winning?" Not necessarily who the coach is, or what you did in a prior life, because I think other people feel that's something that will weigh heavily.
But really, it's about winning. He's elevated our program, and put us in a position where we get noticed. When people ask him where he goes to school, sure, he says San Diego State University, and puts us on the map. But what I'll tell you, and he'll tell you, is it's about winning. When you can consistently win games, that's where you're going to draw the most attention. For us, it's nice because the local guys we have, the local kids we recruit, they get to see a guy who's gone from relative obscurity, to all of a sudden being the #1 guy in the country.
That should tell them we're doing something right, and that's what we want them to focus on. The fact that he's come to an environment where he can grow, get better, work at his craft, and get an education. With the work he's put in, he's now in a position that most guys in the country would like to be in.
UpperDeckBlog.com: So moving forward, you'd say this is a benefit to your program as a whole?
Gwynn: Absolutely. You know, the crowd that's going to be here tonight? That's not because I'm the coach. It's not because we're 31-18. It's because everyone wants to see Stephen Strasburg, they want to see his last start. Having him on our staff has been a huge benefit. Friday night, that's what you want. You want the place packed, you want that electricity, you want your guys fired up and ready to play meaningful games. And with seven games to go, that's where we are. This is the first game of an important conference series for us, and hopefully we'll break out all-time attendance record tonight.
UpperDeckBlog.com: Since winning is your ultimate goal here, how does the media frenzy affect that? Stephen is one guy on the team, but you're responsible for all of them.
Gwynn: Here's the thing: you're sitting here interviewing me during batting practice for the opposing team. And that doesn't happen, it just doesn't. But it's happening now, because of Stephen Strasburg. He's done so well, and been talked about so much that people need to come out and see it for themselves. The coaching staff, we've all told the story about why he's as successful as he's been. And that's good.
I mean, I hate talking now. I mean after twenty years in the big leagues, you get to the point where you're comfortable doing what you're doing. Like normally, I'd be sitting here, watching the opposition taking batting practice. But now, because Stephen has been so dominant, everyone wants to ask questions.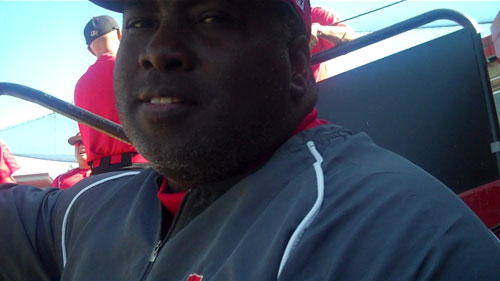 UpperDeckBlog.com: After he's drafted, do you think next year will be hard for the team, given how all this attention will go away?
Gwynn: Well, it'll be different, no question about it. When we go on the road, there won't be people waiting for us at the bus, like there was last year. But the game goes in cycles, you know? We've been fortunate that this last cycle, we're the University with the top college guy. And there's a lot of work that goes into it too, it's not like we've been caught off-guard. We were totally prepared for it, we knew it was coming. And there's no question we've benefitted from having him here.
Next year, it'll be different. Someone else will emerge and be that guy. Hopefully, that'll be someone here. But if it's not, we've gained experience with operating under scrutiny, and I think we're all better because of it.
UpperDeckBlog.com: Who are some of the other players on this team who haven't been getting the press, but you think should?
Gwynn: Well, the guy who's going to catch tonight, Erik Castro. He's probably been our most consistent hitter, at about .380, with seven homers, almost 40 RBIs. He catches on Friday nights when Stephen pitches, plays third most of the time otherwise. Cory Vaughn, our right fielder, he's the son of Greg Vaughn, he's had an outstanding year. Ten home runs, 45 RBIs, played the heck out of right field. Addison Reed, our closer, he's leading the nation in saves. On a normal year, I think he'd be the guy we'd be talking about.
Now Stephen has been our best guy, no question about it. But his supporting cast has been good too.
UpperDeckBlog.com: If I'm a high school player, why do I want to come here? What is this program going to do for me?
Gwynn: Well if I was recruiting you, I'd tell you why. But I'm not, so I'm not going to fire those bullets. I'll tell you this though, you come out here and watch us play, you're going to be impressed with what you see. We play an aggressive style, we try to pound the strike zone. We're not afraid to pitch inside. We play a professional style of baseball. Our team is young this year, and the fact that we're so young will probably scare some kids off.
It's very competitive here, you need to work for what you get. We're going to lose Strasburg, we're probably going to lose a bunch of other Juniors. But we're so young that we have plenty of guys coming back. But ultimately, like I said before, it's about winning. The deeper your club is, the better your chances will be to win. 56 games doesn't sound like a lot, but going to school every day, trying to mix in those games in four and a half months is very difficult. It's not easy.  Luckily, for us, our kids have responded. They're doing well in the classroom, and doing well on the baseball field.
UpperDeckBlog.com: And these guys are students, even Stephen. People don't recognize that he's a student going to classes. I think that's lost on a lot of people in the media with all of this attention.
Gwynn: It is lost, because of the people who come out to do stories like ESPN, FOX, CBS, all those entities. They come out and do the pieces on him, and now he's larger than life. You know, I did a chat the other day with NCAA, and one of the people asked, "Is it College World Series or bust for you guys?" I just started laughing, because that's what happens when someone's been as hyped as him. We haven't been to a regional in nineteen years. You know, that was our stated goal coming into the season: we want to get into a regional. And we're not there yet, we've still got seven games to play. Hopefully we can reach that goal, and once you get there, you try to win as many games as you can, and move forward. You can't worry about it until you get there.
Leave a Comment