When news hit that Upper Deck was creating a rookie card for a 9-year-old, people definitely took notice. Getting an Upper Deck rookie card is the dream of most every young athlete so for Jack Miller to receive one at such a young age is truly a special honor. It is an honor this young man is very deserving of however.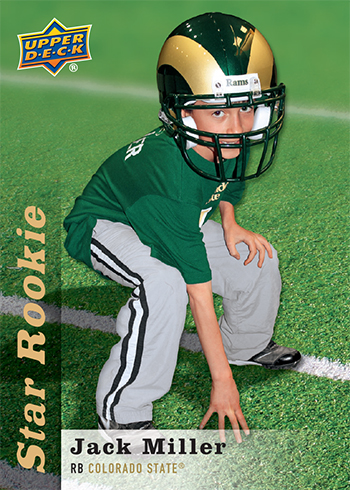 Jack Miller has been bravely battling brain tumors over the last several years and he was 'adopted' by the Colorado State Rams Football team where both Jack and the team have inspired each other. The adoption occurred through the Friends of Jaclyn foundation which partners children suffering from pediatric brain cancer primarily with collegiate sports teams. Upper Deck recently created a trading card for the founder of the charity; Jaclyn Murphy; and then unveiled Jack Miller's Star Rookie card shortly thereafter.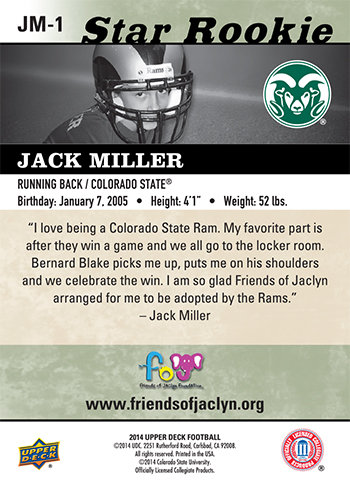 The first place to get Jack's trading card will be during a live signing session with Jack Miller this Sunday, April 26 at Mike's Stadium Sports Cards in Aurora, Colorado from 1:00 p.m. – 2:30 p.m. Upper Deck would like to encourage everyone in the area to stop by Mike's Stadium Sports Cards Sunday to help support a great cause and add one of these cards to their collections. It is a unique opportunity to collect inspiration.
And to help support the cause, Upper Deck is sending Mike's a variety of cool promotional items collectors will want to be on hand to enjoy. Make sure to check out the Facebook event from Mike's Stadium Sports Cards! Here is a breakdown of what will be happening:
12:00 – 1:00: Fans arrive. We are hoping to have a huge line outside the store to welcome Jack with and get him excited about the event!
1:00 – 1:15: Jack Miller will arrive and we will have a special presentation for him that you will not want to miss!
1:15 – 2:15: Jack Miller will autograph and personalize copies of his new Upper Deck trading card for a $20 donation to the Friends of Jaclyn Foundation. His regular unsigned cards are available with just a $5 donation to the charity. There is a limit of 5 cards per customer. A limited amount of larger blow-up Jack Miller cards will be available with a donation of $100 to the charity. These are limited to one per customer.
And if you cannot make the event, but would love a signed card from Jack Miller, reach out to Mike Fruitman (owner of Mike's Stadium Sports Cards) before the event! You can reach him at the shop via email or directly at (303)699-9808. He has offered to arrange for the donation to be made prior and he will ship the item to those interested for FREE!
2:15 – 2:30 – There will be a free raffle with awesome items donated by Upper Deck! Every fan in attendance will get one free raffle ticket and you can earn additional raffle tickets with every 5 pack purchase of 2014 Upper Deck Football and/or a donation to the Friends of Jaclyn Foundation. Jack will pull winners and here are some if the items up for grabs:
Upper Deck 25th Anniversary t-shirts
Upper Deck 25th Anniversary beanies
Four (4) hobby boxes of 2014 Upper Deck Football
20 Upper Deck insert cards
Five (5) Upper Deck 25th Anniversary Promotional sets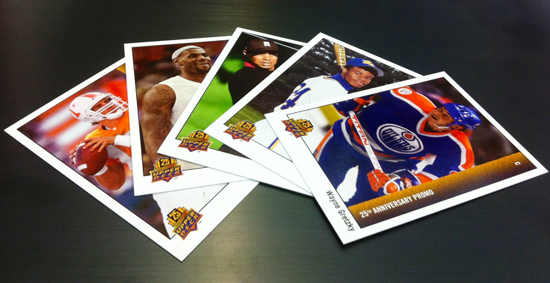 And the grand prize is one short-printed Peyton Manning Las Vegas Industry Summit autograph card!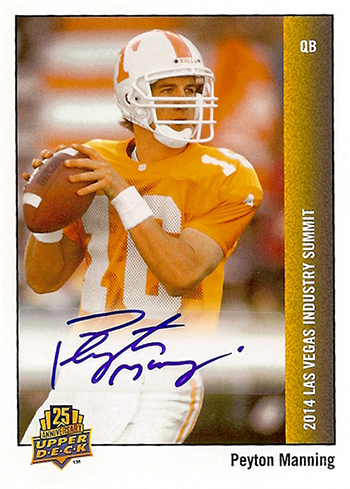 If you are in the Aurora, Colorado area this Sunday, make it a point to visit Mike's Stadium Sports Cards so we can show one brave young man how much his community supports him!